Mobile Sports Betting Goes Live At Atlantic City Casinos, And DFS Operators Are Leading The Way So Far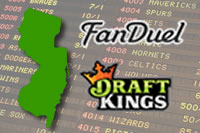 Sports betting has been going on legally in New Jersey for about two months now (and let's be honest, it has been going on in general for much, much longer than that), and by all accounts it has been a roaring success.
However, the Garden State is breaking new-ish ground with the roll out of its mobile sports betting option this week, making New Jersey only the second state in the entire country – after Nevada, of course – to make it both statewide legal and widely available to place wagers on sporting events via Android and Apple smartphones.
In order to make sure that all of the New Jersey mobile sports betting actually stays within the state lines, all apps available through the Garden State's myriad gambling venues will use geolocation – and geofencing – technology to verify the end user's physical location before allowing the player to put money down on a sporting event using their phone. So, for instance, if you hopped across the border into New York and tried to use a New Jersey-based sportsbooks app, then you will kindly be told via automated message to get back to Joizy before proceeding to place your bets. Them's the breaks, kids, but still, there is plenty of good news to go around after this recent announcement, so we will dive right in.
Atlantic City casinos and thoroughbred horse racing tracks throughout the Garden State will be able to offer this option for sportsbook customers within just days of the announcement that all the required regulations had been finalized, though no official launch dates have been set for the mobile betting apps offered through specific casinos or tracks. Some of the biggest big names in the gaming industry have already expressed their interest in getting their entry into the mobile market space up and running as quickly as possible, and that includes THE biggest name of them all, MGM Resorts International, which owns and operates the Borgata casino and resort in Atlantic City. MGM CEO Jim Murren told local reporters Tuesday that the Borgata will kick off mobile wagering by the end of this week, while MGM's biggest competitor – that being Caesars Entertainment, which also has several Atlantic City casino properties – should have its own mobile betting app good to go soon as well.
Though MGM already made the most of the news cycle this week by announcing what Murren called a "historic" $200 million 50-50 joint venture with British online gaming firm GVC Holdings for the purpose of developing an internet sports wagering platform that works nationwide, the really big announcement from an individual company came from daily fantasy sports (DFS) industry leader DraftKings.
Unlike the casino and horse track owners and operators, which were in a mad dash just to get their sports betting apps to the proverbial starting line first, DraftKings took a different tack. The top dog among DFS operators, DraftKings decided that the best approach was to operate on an invitation only basis, and during the course of the trial (the length of which has not been specified by the company at this time) players will be able to place wagers and win cold hard cash. So basically it is just the same as the full version that has yet to be revealed except only for a select few folks.
DraftKings CEO Jason Robins said his company's more calculated, careful approach to crafting a mobile sports betting product will help it get the little details right before it sets up a physical retail location on the grounds of its Atlantic City partner, the unimaginatively named Resorts Casino & Hotel. The key to the whole operation is to be forward thinking and make the most of what is without a doubt the hottest commodity in the broader gambling ecosystem these days: the internet and mobile space. In this regard, it is doubtless true that DraftKings, which has been a strictly online affair since its inception, has an advantage over the competition now that the US Supreme Court's decision to overturn the Professional and Amateur Sports Protection Act of 1992 (PASPA) has opened the flood gates for states to legalize sports betting however they see fit.
"I think the opportunity for innovation is just massive (with mobile)," Robins said to reporters in an interview conducted for ESPN's web publication. "Not to say that you can't innovate on the retail side, but it's quite literally a limited space. Mobile, you can do anything with. There is no limit to where I think this is going to go, with integrations of streaming ... I think eventually it integrates with voice assistance in the home, smart TVs. The opportunities really are endless as technology advances."
All that being said, DraftKings is still probably going to need to seek out some help when it comes to the business of running a sportsbook, and it has accordingly entered into a partnership with Kambi, a sports betting provider based out of the tiny European nation of Malta. Kambi's role in the relationship will be to help DraftKings in actually writing odds as well as taking care of trading and risk management concerns. Finally, Robins also announced that company vet Jamie Shea will head up operations of the company's newly minted digital sportsbook operations.
As for the actual features of DraftKings' new sports betting offering, you will be able to place wagers on all the sports American fans are known to love, so that includes all the major professional and collegiate sports, teams, players, leagues and so on, but also international sporting events such as the recently concluded FIFA World Cup. DraftKings is also looking into offering betting lines on entertainment events that are not, strictly speaking, sports related – think hot dog eating contests (believe it or not they broadcast things like this on ESPN too) or the annual Academy Awards program.
One of the more interesting factors involved with DraftKings' app is that, while the sports betting option will be a separate product from the company's more famous mainstream DFS product, users can expect to be able to share an electronic wallet between both apps. There are reportedly going to be "some limitations" as to how much or what kind of bankrolling players can do between apps, but we will do our best to stay on top of details like that and keep our readers informed as soon as more information becomes available. The bottom line is this: users of both the DFS and sportsbook apps made by DraftKings should be able to funnel funds between their shared accounts to some extent, which ought to make the entire process a lot easier once the finer points get ironed out after user feedback comes in over the course of the trial period.
Another addition to the options that could be tacked on to the list of different sports wagering activities at some point in the indeterminate future include live in game betting as well as live updates to player prop bets during the action. At any rate, players invited to participate in DraftKings' demo period will have the option of cashing out at different prices according to how the actual odds themselves fluctuate during an event, which adds an interesting dimension to the whole sports betting process. Robins said that DraftKings absolutely has to nail these aspects of the mobile sportsbook experience if the company wants to be a key player in this industry as well, which, considering its pedigree as the top billing on the DFS stage, is pretty much the expectation from upper management.
"I just think the way sports betting is thought of and the experience of it is going to look totally different in 10 years," Robins said. "And I think mobile is really the key for that."
One of the lynchpins of DraftKings' success going forward is widespread availability for this trial run of its new app, so developers were keenly aware of the need to make sure the app would work faultlessly with smartphones and other devices running both the Android and Apple operating systems. Legal offshore sportsbook operators such as Bovada (which is not legal to use in New Jersey), BetOnline, SportsBetting, BetDSI and 5Dimes learned that lesson long ago when they first began offering free to download mobile sports betting apps, and they have all enjoyed great success during and after PASPA.
Perhaps the next big question on the minds of those interested in getting in on the sports betting action on their mobile device in New Jersey is some variation of "what about FanDuel?" Well, ESPN has reported that DraftKings' biggest rival (and, it was formerly thought, the company's co-entity prior to a failed merger attempt in 2017) is also gearing up to take a deep dive into the Garden State's mobile sports betting market space in the near future as well. FanDuel, which has always kind of been the second fiddle to DraftKings in the DFS industry despite millions of dedicated players (and, honestly, better promotions for return players), is partnering with online casino gaming and poker room company The Stars Group to jointly develop and launch a mobile sports betting app of their own. The target is to have the new app set up and taking action on sports in time for the start of the NFL and college football seasons – beyond question the busiest time of the year for sportsbooks in the United States, said The Stars Group Senior VP of Strategy and Operations U.S. Matthew Primeaux.
"We are working toward being one of the first brands launching mobile betting in New Jersey following the state's campaign for meaningful change in U.S. legislation," Primeaux said in a release to local and national media. "With casino and poker already, expanding into sports means that betting fans can enjoy all we have to offer."
FanDuel's involvement in the fight to lock down the New Jersey market makes things a good deal more interesting to be sure, but as one of the few states in the nation that allows mobile sports betting (as of this writing) there is probably enough to go around for anybody with the scratch to get in on the developing industry in the Garden State. Nevertheless, it is kind of ironic to see that DFS operators are in large part taking the lead when it comes to offering the most innovative solutions for 21st century sports bettors, as well as putting in the time to really nail their target demographics in a way that more so-called "establishment" figures seem to be prioritizing just getting a product – any product – out as fast as possible.
The daily fantasy industry leaders were some of the most vocal voices during the era when PASPA was still in effect, leading the charge in many ways to make sure that everybody knew the difference between sports betting (a "game of chance") and fantasy sports (a "game of skill"). But with this week's announcements of more concrete details surrounding DraftKings and FanDuel looking to tackle the mobile market for sports betting in New Jersey, it seems like there is more of an overlap there than the show runners in these marquee companies were willing to let on when it wasn't politically or even legally expedient to say so. Oh the times, they are a-changing; or, maybe it would be more accurate to acknowledge that the times have well and truly already irrevocably changed.

| Legal NJ Sports Betting Sites | New Player Bonuses + Promos | Bet Now |
| --- | --- | --- |
| BetOnline Sportsbook | $1K w/ 50% Match - Good For Life | Click To Sign Up |
| SportsBetting Sportsbook | $1K w/ 50% Match - Lifetime Bonus | Click To Sign Up |
| BetDSI Sportsbook | $100 w/ 100% Match - Lifetime Bonus | Click To Sign Up |
| 5Dimes Sportsbook | Multi Bonus Worth Up To $520 | Click To Sign Up |