Gov. Murphy Delays Sports Betting Operations In NJ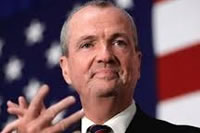 Between the Warriors sweeping the Cavaliers, Justify winning the Triple Crown, and the first game of the Yankees-Mets series, it was a big weekend for the nations select sportsbooks.
Unfortunately, operators in New Jersey did not get their cut of the huge betting handle as Governor Phil Murphy has yet to sign a bill that would formally legalize sports betting in the state.
"I'm not gonna change my stripes just because it's a big weekend," stated Murphy. "We gotta make sure we do what we do right."
The bill on the table is NJ AB 4111 http://www.njleg.state.nj.us/bills/BillView.asp?BillNumber=A4111 , a piece of legislation that would authorize casinos and racetracks in the state to accept sports wagers. Operators would be taxed at a rate of 8.5 percent plus an additional 1.25 percent that would go toward marketing Atlantic City.
NJ AB 4111 passed the New Jersey Assembly 73-0 and was approved 37-0 in the Senate on Thursday afternoon. The bill now only awaits a signature from the governor to go into effect, with Murphy having a 45-day window before his John Hancock is required.
Though Murphy has stated that he is an advocate of sports betting in New Jersey and wants to "place the first bet in New Jersey if I can", time is money and no one understands this more than Monmouth Park Racetrack operator Dennis Drazin.
Drazin has already equipped the venue with the $3 million William Hill Sports Bar, and has provided his employees with the necessary training to accept sports wagers. Drazin estimates that Monmouth Park could potentially make upwards of $120,000 per day once sports betting is launched in the state.
"You have a Yankees Mets game, you have an NBA final, you could've had some combination of wagers that parlayed into the Triple Crown," stated Drazin. "It would've been well-received, it would've been jobs, it would've been revenue for the state. But I get it. The governor wants to get this right."
He had hoped to open the sportsbook on Friday, but Murphy's delay in signing the legislation put an end to his plan. The governor even issued a letter to the racetrack shortly after the bill landed on his desk, noting that, "Any improprieties of adverse conduct related to any unregulated activities would have the potential to jeopardize their ability to be licensed for sports wagering under the new law."
It looks as if Monmouth Park and other potential sports betting operators will have to continue waiting before launching their sportsbooks. With the governor tight-lipped about when he may sign the new sports betting bill, your guess on when sports betting will be available in New Jersey is as good as ours.
Delaware was able to beat New Jersey in becoming the first state on the east coast to offer full-scale sports wagering, with their first bet placed by Gov. John Carney last Tuesday. Now, it looks like a race between West Virginia, Pennsylvania, and New Jersey to become the next state.
| Legal NJ Sports Betting Sites | New Player Bonuses + Promos | Bet Now |
| --- | --- | --- |
| BetOnline Sportsbook | $1K w/ 50% Match - Good For Life | Click To Sign Up |
| SportsBetting Sportsbook | $1K w/ 50% Match - Lifetime Bonus | Click To Sign Up |
| BetDSI Sportsbook | $500 w/ 100% Match - Lifetime Bonus | Click To Sign Up |
| 5Dimes Sportsbook | Multi Bonus Worth Up To $520 | Click To Sign Up |